Sat. May 4, 2013
10:00 am to 4:00 pm
Bring:
Your wheel  and a project  and or questions to share with other fiber artists.
I'll have chairs here but you might want to bring your comfortable folding chair.
A dish to share for the pot-luck lunch
Adult supervised children are welcome but no animals please.
Sheep consider all dogs to be wolves. There are 3 Livestock Guardian Dogs who live with the sheep and take their jobs seriously. We will be sharing the yard with Joe,  the Border Collie herding dog and  3 cats. All of the animals are very aware of who belongs here and who doesn't. The human visitors will be enough excitement for the sheep.
Sue is retiring and will be moving on to new adventures. The sheep were shorn for the last time here in February so these will be the last fleeces available from
Cormo Sheep & Wool Farm.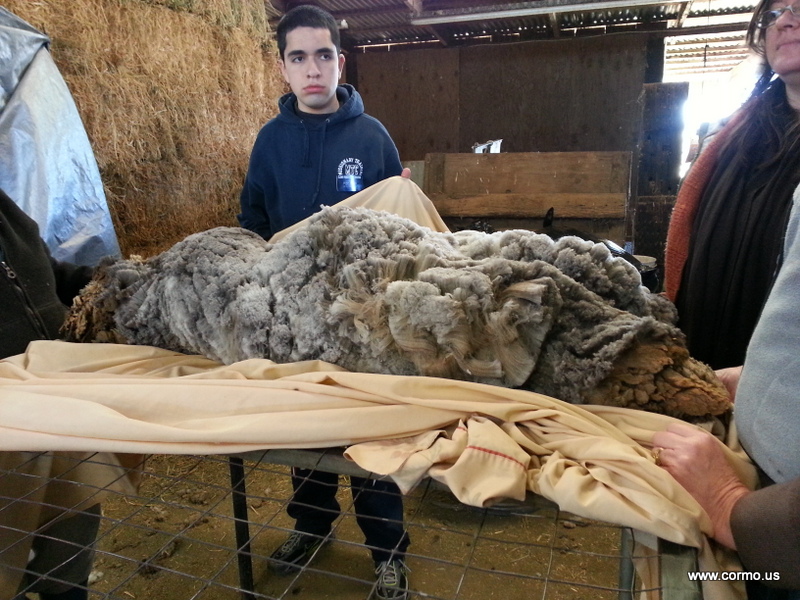 While the sheep get their massages after being shorn, we enjoy admiring them. It's a brief opportunity since they wear covers 24/7 to keep their fleeces clean and free of Vegetable Matter.
Some of the sheep have been sold and have already moved to their new homes.
Thank you Signe for giving these sheep such a lovely new home.
Meet the Sheep
11:00, 1:00 & 3:00

Fleece Sales will start at 10:00
Also available:
White and Natural Colored combed Top Fresh from the Mill
Cormo Yarns
Sheepskins
Limited amounts of various Cormo rovings
Fleeces will be posted on the web site and available  for mail orders the following week.

Acceptable Payments:
Cash
Check made out to Sue Reuser
Credit Card ( as long as the cell phone works)
: